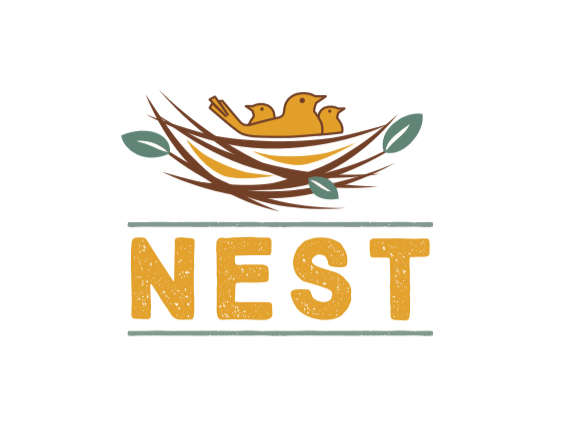 NEST Program
We are blessed to be part of a generous, loving community! Since our founding, an important part of our ministry has included helping our guests with starter items for what may be the first home of their own. Over the years, a section of our basement grew to off-site storage areas and what staff and volunteers lovingly called our "giveaway center," occupying several rooms at SS Peter & Paul Church. In early 2019, a group of dedicated volunteers helped us move this center to buildings on Ring and Burnham Streets in Saginaw. Soon after this move, we decided it was time to give the growing ministry a name. The image of a mother bird feathering its nest was often in our minds because just as a mother bird selects the right elements to make its nest a warm, inviting home, so do our NEST volunteers.
NEST: Neighbors Enabling Success Together
This small but "always there" part of our ministry has evolved into an ongoing collaboration with Hopevale Church and its "Can Do Crew." Together, the Can Do Crew and our Move Team collaborate to operate our NEST Center on Ring Street and they help an average of 10 people each month – former Mustard Seed guests and others in the community – transition from homeless to housed.
The NEST Center serves as a showroom where those planning to move to a new home can browse smaller household items such as linens, dishes, kitchen equipment and cleaning supplies. We are also blessed to have two large warehouses for display and storage of furniture and appliances, and two 40-foot shipping containers where items are stored until they've been inspected, cleaned, repaired and otherwise prepared for display. This once-tiny part of our ministry has grown to a nearly full-time operation!
Our Quality Standard
Not sure if you should donate an item? First ask yourself if you would feel comfortable giving it to a friend or family member.
We are truly grateful for every donation. After prayerful consideration, in 2019 the Mustard Seed board of directors decided to increase our ability to accept and store donated items. But we have also prioritized needs and set criteria so we are making the best use of available resources. We do not have space to accept every single item, so when possible, we may connect with others such as the local Habitat for Humanity ReStore, Underground Railroad Resale, Bethesda Thrift Shop and other local organizations.
New and gently used items only, please.
All items must be clean, fully functioning and in good condition.
Please make sure items are free of rips, stains, strong odors and/or pet hair
Our staff and volunteers have the right to refuse items that do not meet our quality standard.
If an item is not listed here, we generally do not accept it, but feel free to call or message us on Facebook if you are unsure.
Ready to donate your stuff? Contact us to make an appointment. Delivery to the NEST Center is preferred but pickup may be available.
Current NEST Needs
We have ongoing needs for new and gently used furniture and household items (see detailed lists on this page).
New or gently used beds (twin, full and queen only, please)
Move Team volunteers
Donations to help offset expenses such as rent, utilities and insurance; a goal for the next year is to purchase a truck with a lift
Gas cards for volunteers who use their own vehicles to pick up donations and move families
There is no fee for pickups but donations to help offset expenses such as rent, utilities and insurance, are always appreciated. Gas cards for our volunteers are always appreciated. There are expenses associated with this expansion of our services, including rent, utilities and insurance. We rely on volunteers to use their vehicles for pickups and to help with moving families.
FURNITURE AND HOUSEHOLD ITEMS
Bed frames: YES – metal, freestanding and folding, NO – headboards, footboards and wooden rails
Chairs: kitchen, rocking and upholstered (no powered chairs)
Coat rack/hall trees
Desks: 42″(w) x 24″(d) or smaller
Dressers
Dustpans and tall waste baskets (new only)
Fans: box and floor (no ceiling fans)
Futons: complete set only (frame and mattress)
Lamps: floor and table (no light fixtures)
Mattresses and box springs: stain- and rip-free (no powered beds)

YES: crib, twin, full and queen size accepted; memory foam OK
NO: electrical beds, bunk beds, trundle beds, sleeper sofas, or rollaways

Mops/brooms (new only)
Sofas, loveseats and ottomans (no sectional, sleeper or powered sofas)
Stools: counter and bar height
Storage: bins, baskets, canisters
Tables: Nightstands, coffee tables, end tables
Tables: kitchen and dining (no glass, stone or tile tops)
Tools and tool kits (hammer, screwdrivers, wrench, measuring tape, etc.)
TVs (flat-panel only) in good working condition
TV Stands: 36″ high or less
Vacuums – clean and in good repair
Wastebaskets and trash cans
Wood furniture: large/bookcases, 72″ (h) x 36″ (w) or smaller
KITCHEN AND BATH ESSENTIALS
Bakeware: casseroles, loaf and muffin pans, pie plates, rectangular baking dishes, pizza pans, cookie sheets
Bathroom: soap dishes, wastebaskets, toothbrush holders
Blenders, stand mixers, food processors, hand mixers
Coffeemakers
Colanders and strainers
Cookware: all sizes, pots and pans
Crock-Pots/slow cookers
Dishes: plates, bowls, cups and serving pieces, butter dish and salt/pepper shakers
Food storage containers
Glassware: all sizes drinking glasses (no stemware)
Hangers: plastic only
Irons and ironing boards
Knives, cutting boards and knife blocks
Laundry baskets and bags
Microwaves (countertop models only)
Napkin, utensil and paper towel holders
Platters and serving trays
Silverware: forks, spoons, knives, serving pieces
Toasters and toaster ovens
Toilet brushes/holders (new only)
Utensils: serving pieces, spatulas, can openers, mixing spoons, whisks, peelers, tongs, scissors, and slicers
LINENS AND SOFT GOODS
Bed linens: pillowcases, flat and fitted sheets, mattress pads and bed skirts (if possible, complete sets marked with tape and the size on masking tape to hold bundle together)
Blankets, comforters, bedspreads: all sizes
Pillows: new bed pillows only
Rugs (max. size 8×10)
Shower curtains and bath mats
Table linens: placemats, tablecloths and napkins
Towels: kitchen and bath (wash, hand and bath)
CLOTHING
Our NEST Program does not accept clothing donations. Please call 989-755-4741 to ask about current needs for guests at our home on Cherry Street and capacity to take donations. We often share with Emmaus House and other local shelters or programs that serve women and children if we do not have a need or storage space.
Group Collection Opportunities
Contact us about current needs and collection opportunities. Some ideas for groups:
Cleaning kits: brooms, mops, dustpans
Cleaning supplies
First-aid kits
Starter tool kits (hammer, screwdrivers, wrench, measuring tape, etc.)