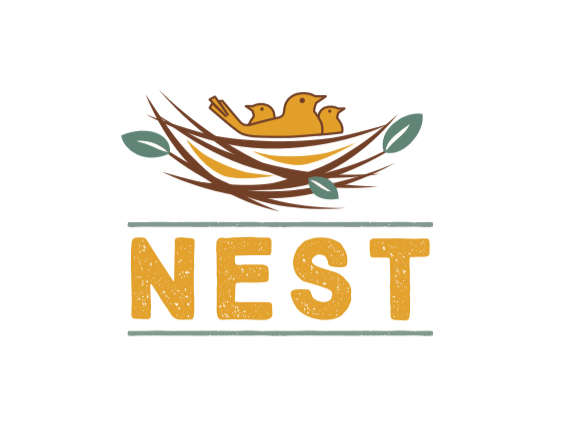 NEST Program History
NEST is now a program of Saginaw's Partnership Center, but its history began at Mustard Seed!
Since our founding, an important part of our ministry has included helping our guests with starter items for what may be the first home of their own. Over the years, a section of our basement grew to off-site storage areas and what staff and volunteers lovingly called our "giveaway center," occupying several rooms at SS Peter & Paul Church.
In early 2019, a group of dedicated volunteers helped us move this center to buildings on Ring and Burnham Streets in Saginaw. Soon after this move, we decided it was time to give the growing ministry a name. The image of a mother bird feathering its nest was often in our minds because just as a mother bird selects the right elements to make its nest a warm, inviting home, so do the NEST volunteers.
NEST: Neighbors Enabling Success Together
This small but "always there" part of Mustard Seed's ministry evolved into an ongoing collaboration with Hopevale Church and its "Can Do Crew." Together, the Can Do Crew and our Move Team collaborated to operate the NEST Center on Ring Street, where they were helping an average of 10 people each month – former Mustard Seed guests and others in the community – transition from homeless to housed.
The NEST Center serves as a showroom where those planning to move to a new home can browse smaller household items such as linens, dishes, kitchen equipment and cleaning supplies. Two large warehouses allow display and storage of furniture and appliances, and two 40-foot shipping containers are used to store items until they've been inspected, cleaned, repaired and otherwise prepared for display.
The NEST program has helped identify and bring together three realities that exist in our community: abundance of perfectly good, gently used household items – and people seeking a place to donate them; individuals and families emerging from or at the brink of homelessness in need of basic household items; and volunteers seeking a meaningful way to apply their time and talent.
In early 2021, our board recognized that this once-tiny part of our ministry had grown to become a nearly full-time operation. They voted to gift NEST to Partnership Center, which like Mustard Seed, had been serving the greater Saginaw community for more than 25 years. We are very excited about this collaboration!
Providing furnishings to clients has been called for in Partnership Center's bylaws since the organization's founding. Incorporating the NEST program into Partnership Center recaptures a service element that was part of that organization when it operated the St. Vincent de Paul thrift store – but in a whole new way.
NEST Needs
NEST has ongoing needs for new and gently used furniture and household items (see detailed lists on the Saginaw Partnership Center website). Specific needs include:
New or gently used beds (twin, full and queen only, please)
Move Team volunteers
Donations to help offset expenses such as rent, utilities and insurance
Gas cards for volunteers who use their own vehicles to pick up donations and move families
CLOTHING
The NEST Program does not accept clothing donations. Please call 989-755-4741 to ask about current needs for guests at our home on Cherry Street and capacity to take donations. We often share with Emmaus House and other local shelters or programs that serve women and children if we do not have a need or storage space.
Group Collection Opportunities
Contact Partnership Center about current needs and collection opportunities. Some ideas for groups:
Cleaning kits: brooms, mops, dustpans
Cleaning supplies
First-aid kits
Starter tool kits (hammer, screwdrivers, wrench, measuring tape, etc.)
NEST remains very dear to our hearts and we will continue to be very much involved, but the day-to-day operation is now handled by our friends at Partnership Center. Please contact them directly for more information:
Partnership Center Office and NEST Program
2115 Ring Street  Saginaw, MI 48602
989-401-7239