First Annual Sowing Seeds of Hope Golf Outing
THANK YOU TO OUR HOLE-IN-ONE SPONSOR!
Burt Watson Chevrolet Freeland has signed on as a Premier HOLE-IN-ONE sponsor! Golfers will have a chance to win a CAR for hitting a hole in one on a designated hole, plus many other prizes on six par-3 holes.
THANK YOU TO OUR 2021 EVENT SPONSORS!
THANK YOU TO OUR 2021 GREEN AND HOLE SPONSORS + DONORS AND PRIZE SPONSORS!
A HERITAGE OF HOPE
Local golfers may be familiar with the Barb Schultz/Jeanette Hansen Memorial Golf Outing , which raised $130,000 over 16 years for women battling breast cancer. Barb was the sister-in-law of Mustard Seed's immediate past board president, Jim Jaime, and the Jaime family has gifted Mustard Seed with this established event. We are honored to carry on the legacy of the women who first inspired it. Proceeds of the Sowing Seeds of Hope Golf Outing will now benefit Mustard Seed Shelter, a welcoming home in Saginaw where women and children experiencing homelessness find shelter, support and hope for a brighter future.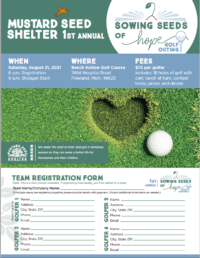 When
Saturday, August 21, 2021
8 a.m. Registration
9 a.m. Shotgun Start
Where
Beech Hollow Golf Course
7494 Hospital Road, Freeland, Mich. 48623
Fees
$75 per golfer includes: 18 holes of golf with cart, lunch at turn, contest holes, prizes and dinner
Registration and sponsor deadline: August 9, 2021
Sponsorship Opportunities
TITLE: $5,000 (ONE opening)
EVENT: $600 (6 openings)
GREEN: $200 (10 openings)
HOLE: $125 (36 openings)
CART: $50 (10 openings)
Please bear with us and our slightly clunky online system!
If you would like to register yourself and/or your team electronically, we suggest one of these methods:
Download and print the registration form on this page. Send a photo of the completed form to golf@themustardseedshelter.org and tell us how you prefer to pay. Paperless option: Just send an email with all of the pertinent information. You may mail a check to Mustard Seed Shelter or use the Make a Donation link here. Please include in your email the amount you submitted so we can properly apply the payment to your golfer/team registration. Do not send cash through the mail. Please contact a member of our team at the bottom of this page if you prefer to pay in cash.
To submit a sponsorship or donation payment online, you may follow the same procedure. Any member of our committee will be delighted to assist you if you have any questions.
Thank you for your patience and understanding and most of all, THANK YOU for supporting the mission of Mustard Seed Shelter. Your participation and support at any level makes a tremendous difference in the lives of those who depend on our services to become full and functioning members of our community.
Jim Jaime, chair
(989) 239-6028
Cheryl Taylor
(989) 737-5824
Amy Bartels Roe
(989) 295-8392