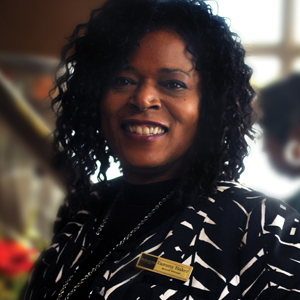 "The pieces of my life came together at Mustard Seed Shelter. I was able to build my life, and it was the love I found there that made all the difference."

– Tammy Baker, former guest
The seeds of our Extend the Branch capacity building and shelter expansion project were planted in 2015 following a backyard barbecue and the efforts of a grateful former guest.
The owners of Horizons Conference Center, Saginaw's Shaheen family, nurture a philanthropic culture among their staff and actively encourage them to become involved in community service. Employees are invited to suggest the causes near and dear to their hearts, where their energy and efforts should be directed.
Tammy Baker, a seasoned supervisor at both Horizons Conference Center and the Temple Theatre, suggested Mustard Seed Shelter in that year's brainstorming session. When asked how she'd heard of Mustard Seed, Tammy revealed that she had lived there, crediting the shelter for changing her life.
Tammy's inspiration, enthusiasm – and event-planning skills – led to Horizons sponsoring the first fundraising event in our 20-year history: a backyard barbecue celebration with linen tablecloths, hotdogs and lemonade. More than 100 people attended and donated money, home furnishings and other items. The response was so great that Horizons committed to help provide storage for the donations.
Just a few days after reading an article in the Saginaw News about the milestone celebration, Dave and Lori Pendleton of Frankenmuth called and talked to Amy Bartels Roe, director of Mustard Seed Shelter.
"Dave's a financial planner – and he asked me a thousand questions," Amy says. "After a lively discussion, he asked what the best part of my day was – and the hardest part. The answers are what got the ball rolling for the capital campaign and you'll see these messages in our campaign materials. I told him, 'The best part of my day is meeting Jesus in these women and walking alongside them as they rebuild their lives. The hardest part is the five to six calls a day we get from women we have to turn away.' He said, 'It sounds like you need to grow.'"
Dave and Lori planted the seed about our need for expansion and their family made the initial pledges toward the project – even before it officially became a project. Over a 24-month period, the board visioned, studied and planned with the help of our general contractor, who is also a long-time supporter of our ministry. We are honored to work with R.C. Hendrick & Son, Michigan's oldest construction company, and Chip Hendrick has been instrumental from the very start – from helping us research a myriad of options with associated costs to developing a detailed budget for the project, a cash disbursement schedule and project timeline.
The campaign really began to take shape in 2017 and in late 2018 Patty Shaheen agreed to serve as honorary chair of the fundraising effort.
"My first introduction to Mustard Seed Shelter was when I received a call from Amy, inviting me to visit the home on Cherry Street," says Patty. "The stories she told quickly touched my heart. Just from my brief visit, I could see they needed more space. And the comfortable home was in need of some improvements. But when Amy shared that this expansion project is the direct result of an event initiated and planned by one of our own Shaheen team members – a former guest of the shelter – I was stunned. I knew I had to do all I could to help them succeed."
"I am so glad Mustard Seed Shelter was there for Tammy and her family and through the Extend the Branch project, I want to help make sure it's there to help even more women and children discover their full potential. If we can graduate even one 'Tammy' every few months – just imagine the impact on our community."

– Patty Shaheen, Honorary Chair, Extend the Branch Campaign